Specification
Item: BETAFPV ELRS Micro Receiver
Weight: 4.5g (with antenna)
Antenna: IPEX MHF + T antenna (recommend 80mm Dipole T Antenna)
PWM channel: 5 channels
Serial output protocol: PWM or CRSF
Size: 19mm*32mm*9mm (without antenna)
MCU: ESP8285/SX1280/SX1281
Telemetry power: 12.5dbm/17mW
Frequency bands: 2.4GHz ISM
Input voltage: 5V~9V DC @ "+" pad
Default firmware version: ExpressLRS v2.0
Adapted RC Model Type: Multirotors, Fixed-wing aircraft, Helicopters, RC Cars, RC Boats and etc.
Diagram
Below is the diagram for ELRS Micro receiver.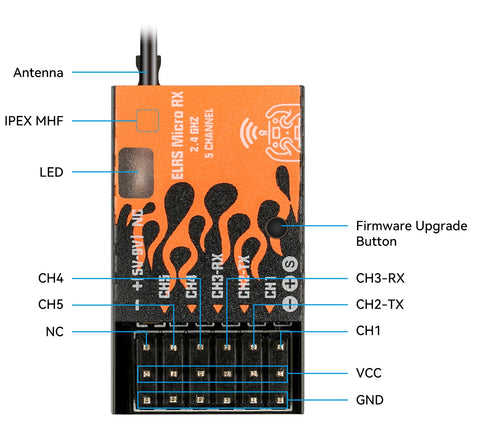 Note: The firmware version of the micro receiver manufactured by our company is ELRS 2.0.0. ELRS Innovative team has officially released version 2.0.0, which is not compatible with the 1.x version. Significantly, the TX module and receiver have to be in the same ELRS version, otherwise, the frequency cannot match successfully.
Note: The Micro receiver also supports flash CRSF output firmware, in this case CH2 corresponds to TX and CH3 corresponds to RX.
ExpressLRS PWM Receivers
ExpressLRS now supports direct PWM output from receivers that have been specifically designed for this mode. BETAFPV ELRS Micro receiver features PWM output for the application of fixed-wing, helicopters, RC cars, boats and etc, and supports failsafe function, which can protect RC models from being out of control. Besides, the plug-and-play design makes it very easy and friendly to use.
Note: To work with PWM receiver, please make sure the TX and RX firmware is ELRS V2.0.0.
Binding Procedure
The Micro receiver comes with officially major release V2.0.0 protocol and has not been set for a Binding Phrase. So please make sure the RF TX module works on officially major release V2.0.0 protocol and no Binding Phrase has been set beforehand.
Enter binding mode by plugging in and unplugging the Micro receiver three times;
Make sure the LED is on double flashing, this indicates the Micro receiver is in bind mode;
Make sure the RF TX module or radio transmitter also enters the binding mode, which sends out a binding pulse;
When the LED light is solid, it indicates that the devices are successfully bound.
Note: once the devices have been successfully bound, the receiver will store the binding information. There would be no need for re-bind on the later use as the devices would be connected automatically.
Note: If you reflash the firmware of the Micro receiver with your own Binding Phrase, please make sure the RF TX module has the same Binding Phrase to perform an auto bind.
Failsafe and PWM Output
When the connection or signal is lost between the radio transmitter and receiver, the failsafe function will adjust all the channels to the failsafe values set by the users, maximum keep safety and prevent from flying away. It's necessary to set up failsafe values properly if you are not using a flight controller, such as RC fixed-wing.
Power on the Micro receiver and wait for 20 seconds without binding.
Once the indicator is flashing quickly, the receiver's WiFi has been activated.
Connect WiFi via computer or mobile phone.
WiFi Name: ExpressLRS RX
WiFi PWD: expresslrs
Open the website address: http://10.0.0.1, and set your own failsafe values.
Note: Failsafe values are absolute and do not use the "invert" flag.
Micro receiver LED status indication is shown below.
| | |
| --- | --- |
| Indicator status | Meaning |
| Solid on | Connected successfully |
| Double flashing | Binding status |
| Flashing slowly | Connection fail |
| Flashing quickly | WIFI upgrade status |
Package
1 * ELRS Micro Receiver
1 * BETAFPV 80mm T antenna