Specification
Moxon Antenna
Coaxial cable length: 49mm(2.4G)/72mm(915M/868M)
Connector: SMA Male
Gain: 5.6dBi(2.4G)/5.7dBi(915M)/5.7dBi(868M)
VSWR: <2.0(2.4G)/<2.0(915M)/<2.0(868M)
Suggested for: BETAFPV Nano TX Module/BETAFPV Micro TX Module, Any 2.4G/868MHz/915MHz TX module or radios
Moxon Antenna V2
Coaxial cable length: 65mm(2.4G)/90mm(915M)
Connector: SMA Male
Gain: 5.4dBi(2.4G)/5.9dBi(915M)
VSWR: <2.0(2.4G)/<2.0(915M)
Polarization type: Linear polarization
Suggested for: Any 2.4G/915MHz TX module or radios
Suggested for: BETAFPV Nano TX Module/BETAFPV Micro TX Module, Any 2.4G/868MHz/915MHz TX module or radios
New Features on Moxon Antenna V2
BETAFPV Moxon Antenna has been very popular with pilots since its release. By taking the features of Moxon and adding some new ones, the coaxial cable of Moxon V2 is soldered to the antenna, decreasing the signal transmission loss for better performance. Besides, the soldered joint is protected by an injection molding cover, making it a whole unit and very easy to install.
Which antenna should I choose? Can it replace the stock radio antenna on the Frsky Taranis series or TBS Tango series?
Pilots would upgrade their radios that already support swappable antennas with this Moxon antenna. Note that do NOT use the antenna with the wrong frequency. Even if they look almost the same outside, they will have totally different performances at the wrong frequency point.
The BETAFPV Moxon antenna is directional to the front. Below is the antenna 3D radiation pattern image.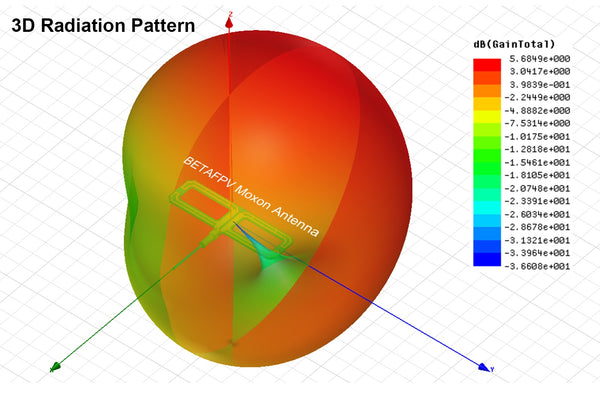 Package
2 * BETAFPV Moxon Antenna or 1 * BETAFPV Moxon Antenna V2