The SKYZONE Cobra S FPV Goggles have a high-resolution LCD screen with vivid colors and high luminance allowing the pilot can see more details during flying. With the SteadyView receiver, two signals are merged into one to avoid image tearing and rolling when the signal is weak. This makes the image more stable and clear in challenging conditions, a first for integrated box goggle receivers. They also support pilots who wear glasses, a real plus for many pilots!
All in all, an amazing box goggle, updated with the latest features, giving even premium goggles a run for their money.
VIDEO: Beginner Fpv goggles upgrade? Skyzone Cobra S unboxing and review.
Features
Three power options (USB-C, 18650, 2-6s lipo)
Easy menu navigation with shuttle scroll wheel
High-resolution 4.3″ 800X400 LCD screen
SteadyView Receiver
FOV up to 50°
Built-in DVR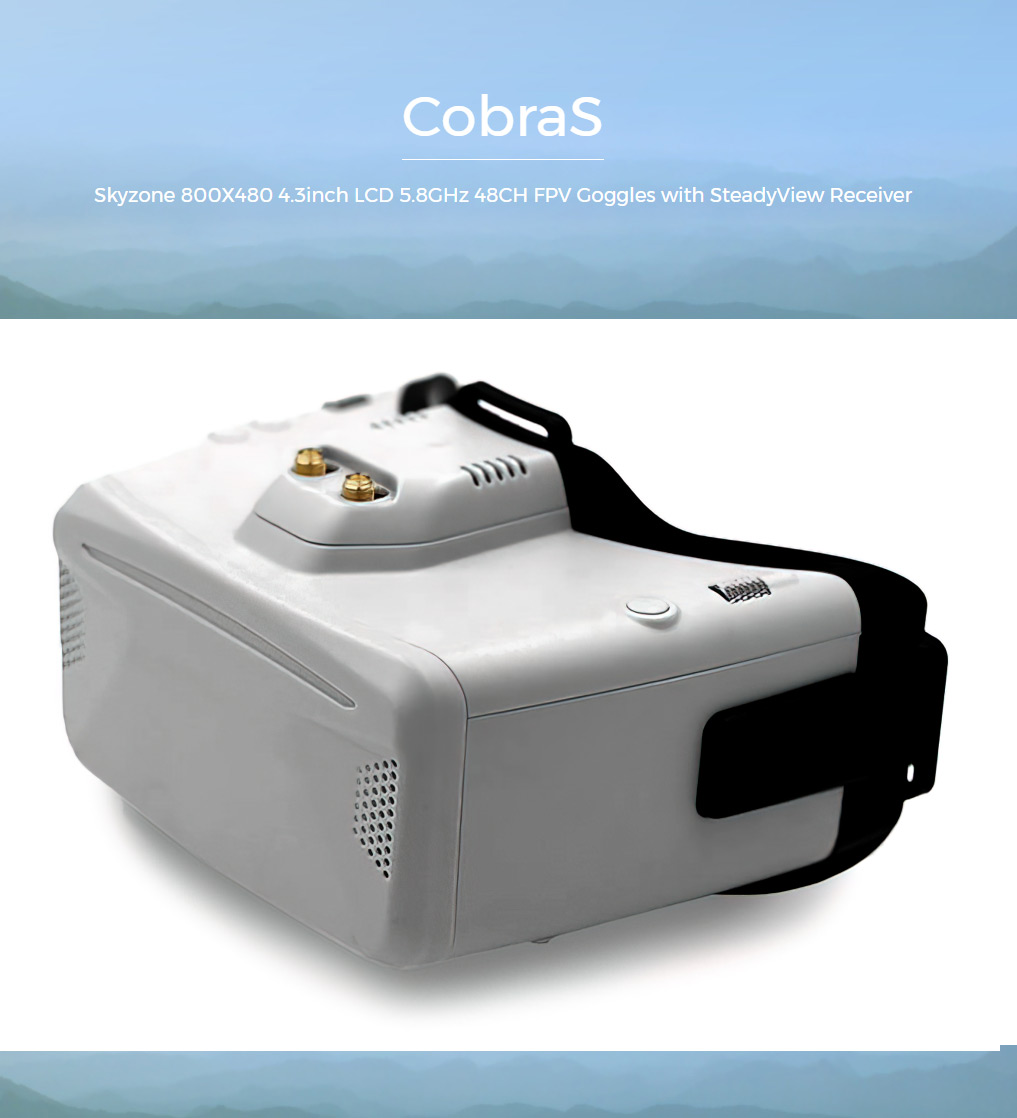 Specifications
Head Tracker: 3-axis Accelerometer, 3-ax is Gyroscope
Power Supply: 1 Cell 18650/DC 6.5-25.2V/USB 5V
Receiver: 5.8Ghz 48CH SteadyView Receiver
Power Consumption: 12V 0.59A 5V 1.4A
DVR: MJPEG, SD up to128Gb
Dimensions: 190*150*110mm
Language: Chinese/English
Resolution: 800X480
FOV (Diagonal): 50°
Aspect Ratio: 4:3
Model: Cobra S
Screen: LCD
Weight: 332g
Includes
1x Skyzone Cobra S FPV Goggles – Gray
2x 5.8GHz 2dD Antennas
1x Headtracker Cable
1x Video/Audio Cable
1x Receiver Module
1x USB-C Cable
1x Power Cable
1x User Manual
1x Head Strap
Note: 18650 Battery Not Included.