The Happymodel ELRS Fyujon is a very simple and easy-to-use 2-in-1 module that integrates 5.8GHz video transmission and a 2.4GHz ELRS receiver. They can be integrated into a board for use, or they can be split into independent VTX modules and receiver modules to be used separately. These components are all open-source solutions that are currently very popular with FPV pilots. Compatible with 16mmx16mm, 20mmx20mm stack mounted way, and 25.5mmx25.5mm whoop mounted way. Due to the ultra-lightweight (only2.1gram), this board is a great choice for small toothpick quads or analog version Cinewhoops.
VIDEO: HappyModel Fyujon ExpressLRS RX + 300mw VTX in a tiny package
Features
Great for Toothpick builds or Cinewhoops
Lightweight 2-in-1 AIO Board
ExpressLRS 2.4GHz Receiver
5.8GHz OPENVTX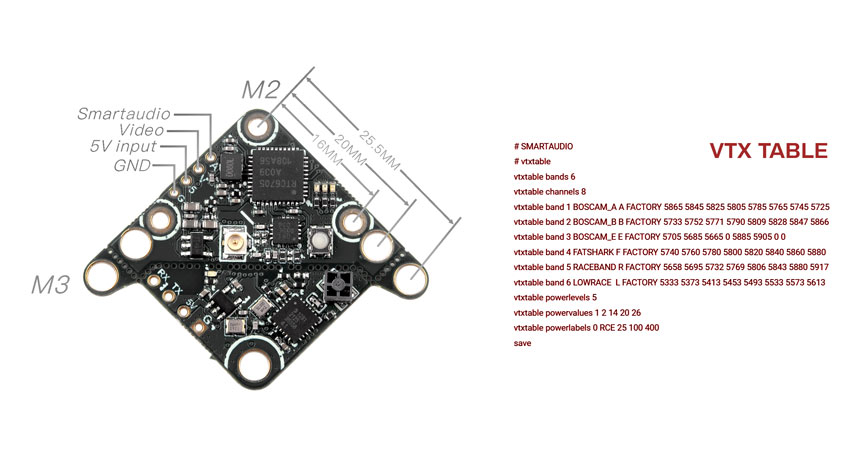 Specifications
ELRS Firmware target: HappyModel EP 2400 RX
ESP8285 MCUSX1280/1281IMLTRT RF Module
Antenna: Onboard SMD ceramic antenna
Frequency Range: 2400 MHz to 2500 MHz
Maximum receive refresh rate: 500Hz
Minimum receiver refresh rate: 25Hz
Antenna Peak gain: 3.7Db
SMD Ceramic antenna
Working Voltage: 5v
Type: ISM
Transmitting Power: 0/RCE/25mw/100mw/300mw
Current (5v): <650ma (300mw)
Frequency: 5.8G 48CH
Power supply: DC 5V
SmartAudio ready
Notes: The VTX needs to work with Smartaudio or IRC Tramp, it can't work without Smartaudio or IRC TRAMP support.
Includes
1x Happymodel ELRS Fyujon AIO Board – 5.8GHz OPENVTX + 2.4GHz ERLS RX
1x Antenna