This GEP-CL30 Frame kit is for the GEPRC CineLog30 cinewhoop.
Designed by the GEPRC team, this frame can be used for Vista HD digital image transmission systems or Analog image transmission systems.
Developed by GEPRC, the CineLog30 is one of the best sub-250g FPV pusher drones in the current market!  The CineLog30 is made with great quality components and a one-of-a kind-frame for durability. The cinewhoop is a dream pusher drone that provides incredibly stable HD video. Pair it up with a naked camera or any other FPV camera for freestyle and cinematic flight.
Note: This is the frame kit only – assembly required. Action camera, propellers, and electronics are not included. 
VIDEO: GEPRC CineLog30  // It is 100% Sub 250 grams for PNP version
Features
The upgraded reversed-motor design and more compact structure could bring a more maneuverable and stable freestyle experience.
A GoPro Hero 8 naked camera and INSTA 360 GO2 camera can be installed through the mounting base.
Improved the shock absorption design of the damping platform to provide a more stable shooting effect.
The backward push design and the shock absorption structure of the camera mount.
Durable high-impact Carbon material with good toughness and strength.
9x9mm motor holes can be used for mounting 1404-1408 motors
Newly developed GEP-CL30 frame with Ultralight fuselage
Small size, lightweight.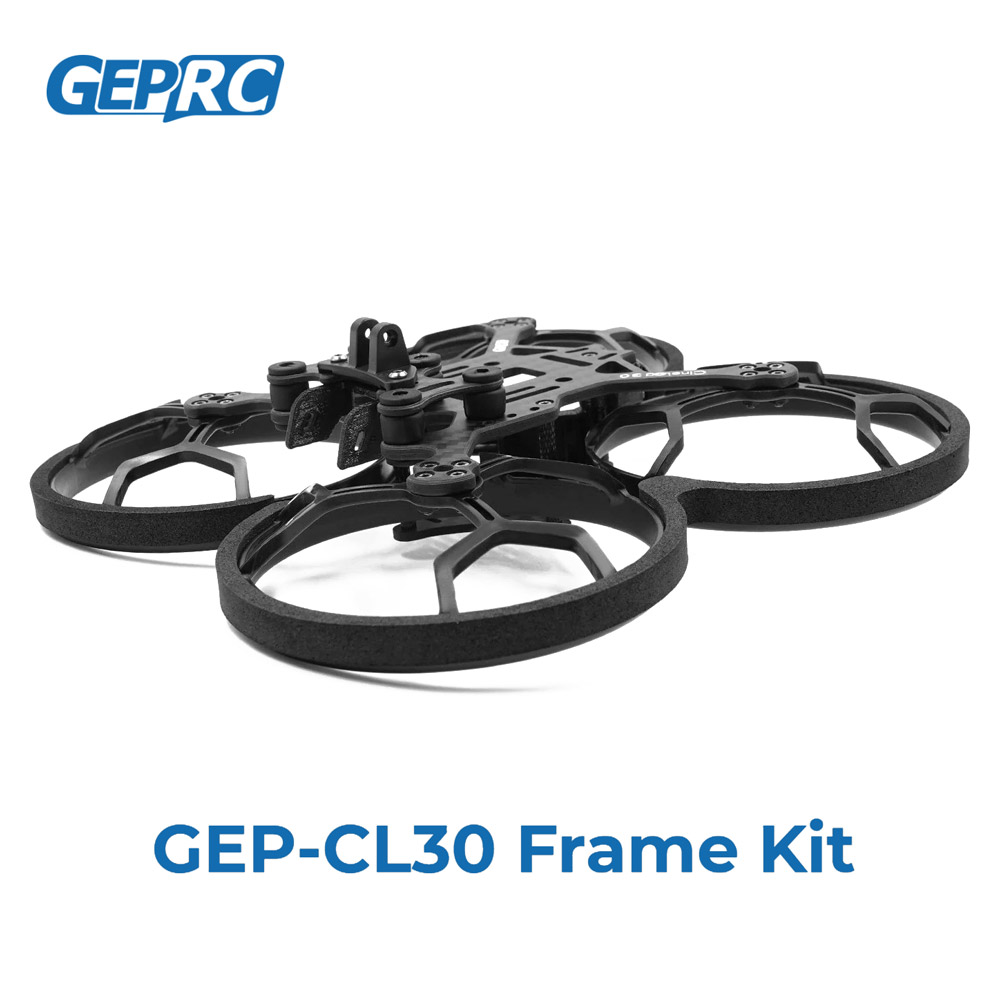 LIGHTWEIGHT DESIGN
The new design made the drone smaller and lighter. Most important, CineLog30 can take off with a 4s 660mah battery only 222.5 grams
NOISE REDUCTION DESIGN
Unique noise reduction design can make CinLog30 noise much less than another Whoop Quadcopter
BACKWARD PUSH DESIGN
Bring higher flexibility, more stable freestyle flight experience, and better shock absorption ability.
CUSTOMIZED MOUNTING BASE
Perfectly suitable for GoPro Hero 8 naked camera and INSTA 360 GO2 camera
UPGRADED PLATFORM DESIGN
Make the shooting and recording effect more stable
Specifications
Weight:62.6g( Include propeller guard, GoPro camera mount,3D printings)
Dimension: 180mm x 180mm x 38mm (including propeller guard)
Propeller guard internal diameter: 79mm
Camera installation space: 14~19mm
Suitable propeller size: 3 in propeller
FC hole position: 26.5mm x 26.5mm
VTX hole position: 20mm x 20mm
Motor hole position: 9mm x 9mm
Motor to Motor: 126mm
Bottom plate: 2.0mm
Model: GEP-CL30
Top plate: 2.0mm
Arm Plate3.0mm
Brand: GEPRC
Include:
Carbon Plate:
1 x Top Plate 2.0mm
1 x Arm Plate 3.0mm
1 x bottom Plate 2.0mm
Screws:
2 x Knurled nut M2
4 x Aluminum Column M2x3.5×25
2 x M2x4mm cup head screws
28 x M2x6.5mm round head screws
10 x M2x8mm round head screws
7 x M2x9mm round head screws
4 x M2x10mm round head screws
1 x M2x12mm cup head screw
4 x M2x16mm cup head screws
1 x M2 Rivet nut
4 x M2 Lock nuts
8 x M2 Iron nuts
8 x M2 * 6.5mm damping rings
9 x damping platform rings
3D Printings:
1 x 19x19mm Camera Mount
1 x VTX Antenna Mount
1 x TBS T-shaped Antenna Mount
1 x TBS NanoRX Mount
1 x Camera Protector
Injection Parts:
6 x 3 in Propeller Guard
1 x GoPro Camera Mount
Other Parts:
4 x EVA Damping Ring of Guards
2 x 3M Double Tapes
2 x Silicone Pads
2 x Landing Pads
1 x M15x200mm Battery Strap
1 x M15x150mm Battery Strap
1 x L-shaped (1.5mm)
1 x Antenna Tubes
Note: Action camera, propellers, and electronics not included.