This Diatone Mamba Stack features a powerful DJI F722 MK2 Flight Controller and a 55A 128K ESC. The flight controller is suitable with the DJI FPV System and equipped with 216MHz STM32F722RET6 MCU, 6 UARTS, MPU6000, Dshot300/600/1200, BEC, and other cool features!
Features
Suitable with the DJI FPV System 

Mamba DJI F722 Flight Controller
216MHz STM32F722RET6 MCU
Dshot300/600/1200
F55 55A 128K ESC
MPU6000
6 UARTS
BEC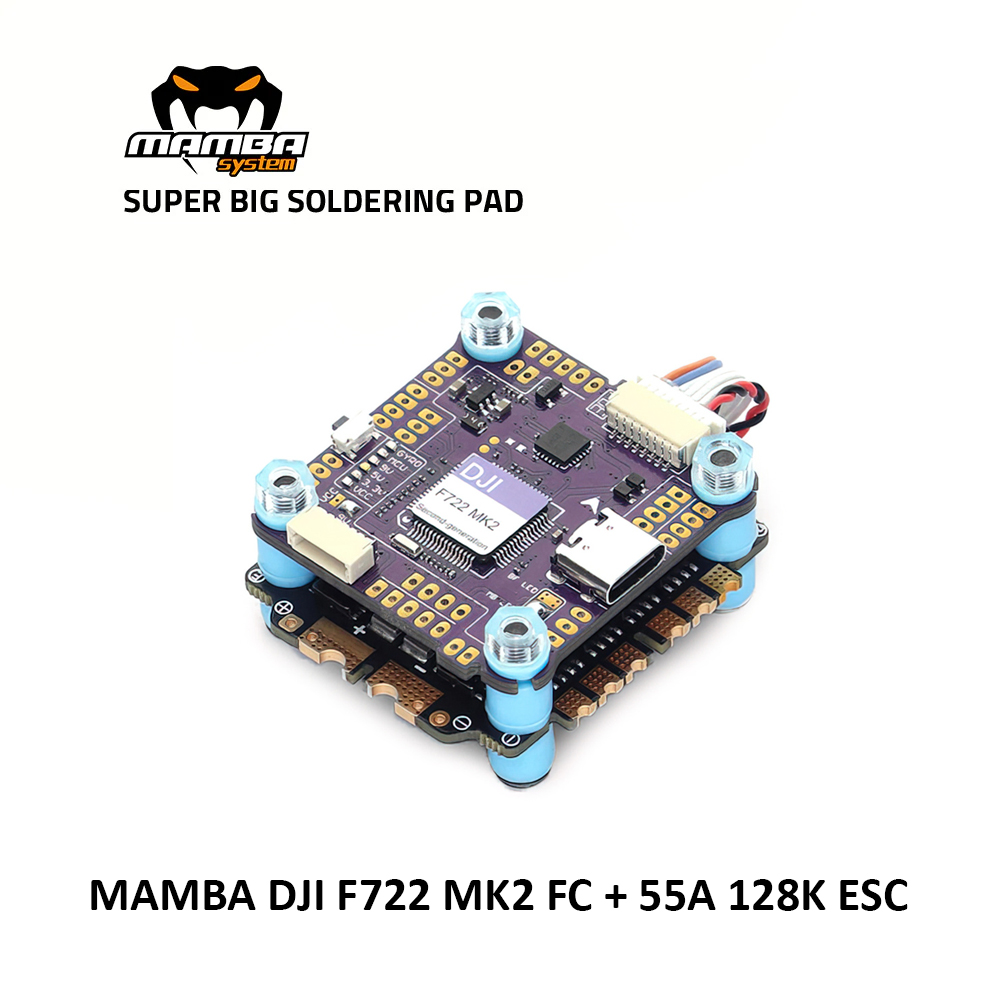 Specifications
MAMBA DJI F722 MK2 FLIGHT CONTROLLER
LED Controller:

BF LED/MB LED (

4 Set 2812 LED)




BEC:

3.3V 0.5A & 5V 3A & (

DJI) 

9V 3A

MCU: 216MHz STM32F722RET6

Input: 3~6S Lipo (12.6~25.2V)

ESC Soft: Dshot300/600/1200

Blackbox: 16M Flash Memory

Mounting 

30.5mm,M3

ESC Telemetry: Yes

TVS Protection: Yes

GYRO: MPU6000

Power Led: Yes

Barometer: Yes

UARTS: 6Set

F.Port: Yes

RSSI: Yes

Buzz: Yes

OSD: Yes
Note: To prevent the FC from overheating due to the STM32F722, please allow at least 5mm space on both sides of the FC (with nothing covered) to allow good air circulation.
MAMBA F50 50A ESC
INPUT VOLTAGE:

 3~6S Lipo (12.6V~25.2V)

CONTINUE CURRENT: 50A×4

BURST CURRENT: 60A (10S)

BEC: NO

SOFT: Dshot300/600

Target: 

BLHeli_S CH40

TVS Protection: Yes

MOUNTING: 

30.5mm/M3

Supply : 8pin sh1.0 ×2

AMASS Original 

XT60

High-Frequency 470uF/35V
Includes
1x Diatone Mamba Stack – DJI F722 MK2 + F55 55A 128K ESC
1x AMASS Original XT60
2x 12AWG 100mm Cable
1x 470uF/35V Capacitor
60x Hard Dampers
40x Soft Dampers
1x Hardware Kit
2x 8pin sh1.0